Frequently asked questions

#1: What is coliving, I've never heard of it?
Imagine the concept of co-working, but for living. Coliving is an internationally accepted and tested concept of living where residents take advantage of the economies of sharing. Many variations of coliving spaces exist in North America and abroad. While each varies a little, the overall concept is the same. Residents rent a small private space with access to ample amenities and shared spaces such as gourmet kitchens, an onsite gym, a library, community events, ride-sharing, and more! An example can be seen below in the Collective Old Oak coliving facility's lounge and library.
#2: Housing is tough in Eagle County, is this a better solution to traditional rentals?
We think so, there is a lot of bang for the buck at the mtn hive and many of the amenities and things that would be additions to a monthly budget are included in rent. For example, all furnishings, utilities, access to common spaces, and weekly community events are included. Most places in the Valley these amenities wouldn't be available or would come at an additional fee; the mtn hive saves you hundreds on these hidden expenses. It's also a great way to meet people who love mountain living as much as you do. With the current lack of studio and one-bedroom options available in Eagle County, we think this will be a great addition to the community. I mean, who wouldn't prefer this kitchen to those pesky burning electric coils? First photo from Roam Coliving San Francisco; second photo from the Collective Old Oak.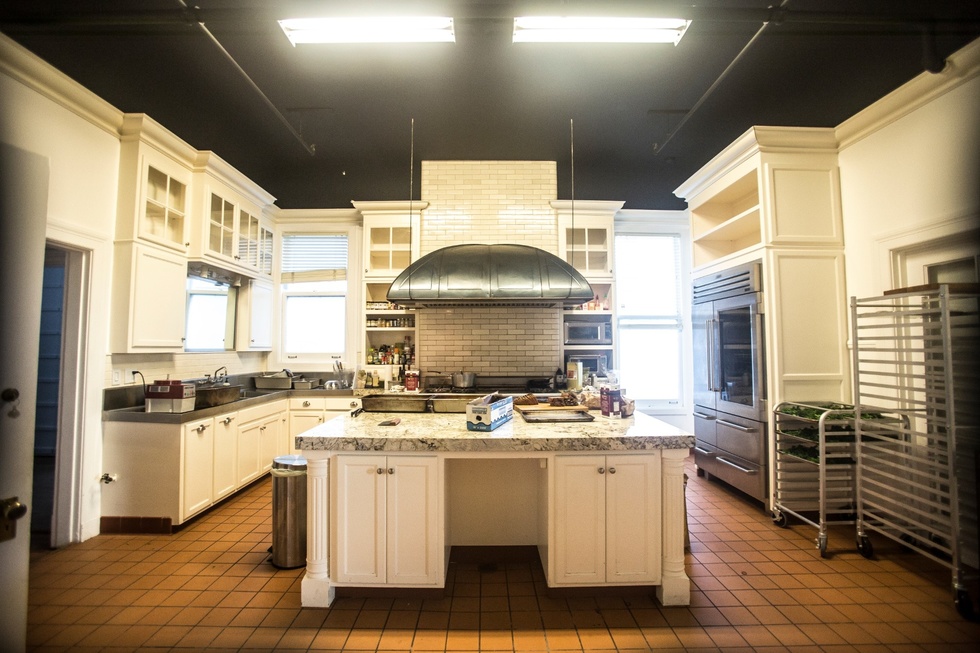 #3: tell me more about the units
Units at the mtn hive range from approximately 180 – 300 square feet. These units all have private bathrooms, come fully furnished with maximized built-in storage, a kitchenette, and a murphy bed. Still not convinced? Don't forget that this is just your private space. Every resident has access to the over 100,000 square feet of professionally designed and professionally cleaned common amenities including: gourmet kitchens (see photo above), an onsite gym, lounges, bike and ski storage and more. Photos below are actual renderings of the proposed units.

#4: Why Edwards? why tract T?
Edwards is centralized in Eagle County and Tract T is centralized in Edwards. The location is walkable and bikeable to almost anything you could wan, including a community college, grocery store, restaurants, shops, etc. It's also near I-70, US Highway 6 and Eagle County public transit stops. Did you hear that it is open space? It's not. The property is currently zoned commercial general and while open space is one possible use (as well as recreational facilities, vehicular access, and more), we feel that housing is a more appropriate use and therefore we are applying to add mtn hive housing to that list.
#5: Can I get by without a car? 
Absolutely! The mtn hive will be located just off the Eagle County bus route in Edwards. Another planned transportation solution is to include shuttles to major business and recreational hubs. A bike sharing program for residents is also in the works, to tie into the current Zagster program in Avon. Last but not least, the Edwards community is very walkable with most things residents need available within a five-minute walk. No car, no sweat! The photo below depicts the five minute walking radius in green, with red paths taking approximately thirty minutes. 
#6: what about traffic and parking?
Glad you asked! We hired a third-party traffic engineer to study both our proposed parking rates and traffic volume. Because of the findings, we have opted to install a new roundabout at the Edwards Village Boulevard intersection by Smiling Moose as part of our application. So, not only is Edwards able to accommodate the additional traffic, but that intersection will be an A+ student through 2040 (i.e. the rating of the new roundabout will improve the intersection from a Level of Service E to an A and remain so through 2040). Additionally, the mtn hive is on public transit stops and plans to provide bike-sharing, car-sharing, and shuttle services.
These analysts did our parking studies too! Parking will be available to residents for an additional monthly fee, though not every unit will have a parking space. Guest parking will be available free of charge.
Who takes care of cleaning common areas?
The mtn hive isn't grandma's house. If you make a mess clean it up. But if your neighbor leaves a mess, don't worry, all common areas will be cleaned daily by mtn hive staff. Photo below is of the Collective Old Oak Restaurant and Bar. 
Can couples live at the mtn hive?
Yes! Couples and singles are welcome at the mtn hive. Units are priced for one person, with a fee for a second occupant. The photo below is of a unit at the Collective Canary Wharf, with the table set for two. Unit layouts for roommates are coming soon.
where can i put my stuff (bike, skis, kayak, etc)?
We love gear, too. We've got you covered. Additional spaces will be available for bikes, SUP boards, kayaks, etc. and ski and snowboard storage will be provided in each micro-unit. There will also be places to tune bikes and skis on site.
Can my pets move in, too?
We love pets, but unfortunately can't accommodate them at the mtn hive at this time. We know Fido is an angel, but not all pets are. Due to allergens and animal messes, we cannot accept tenants with pets.
Sign me up! How do I get a lease?
Great!  Unfortunately, we aren't approved to build the mtn hive yet but, if you join our contact list we'll let you know when we are. If you can't wait to live here, let us know. In the meantime, there are ways you can help support the mtn hive's approval and we would love your support. Check out our Get In Touch page and let us know you want to help. We will contact you with ways you can support the project.